Category Archives:
Contests, Prizes & Giveaways
Do you remember the most important dice roll you've ever made? Well we want to see it! For this contest, we want a visual recreation of the most important dice roll you've ever made. It could be a drawing, a photo, a mosaic… anything that falls within the spirit of the contest! Be creative! Surprise us!
The Prizes
1st prize will get the highly sought after Q-Workshop Dice cup, a box of their newest set of dice, and an extra set of Q-Workshop promotional dice!
2nd prize will get a box of their newest set of dice, and a set of Q-Workshop promotional dice!
3rd place will get a box set of dice, and a set of Q-Workshop promotional dice!
4th & 5th place will each get a set of promotional dice from Q-Workshop!
The Rules
This contest is open to EVERYONE WORLD WIDE! Email your entries to Contests@ObsidianPortal.com with the subject My most important dice roll. The contest ends on October 25 at 11:59 pm (PST). We will choose the five winners from the submissions and announce the winners by Friday, October 29th. We make no claims of ownership to the copyright of any images or text submitted to us for this contest. With us, you always own your own content!
SquidGirl: part squid, part girl. Here, have a look.
SquidGirl appears on the cover of the upcoming RPG GammaWorld by Wizards of the Coast, and based on her abilities to multitask, take charge of a dangerous situation, and use her extranious limbs as hair, we are ready to pledge our undying love for her. But there's just one problem: We have no idea who SquidGirl really is! I mean, what makes her tick? What are her goals in life? What are her pet peeves? Why is she a SquidGirl?
That's where you come in, see? We're putting a bounty out for information. We want background info, we want her stats (in whatever game system you prefer), we want pictures of her in her everyday life, we want personal journal entries, we want it all!
CONTEST RULES:

This contest is open to anyone, anywhere! Also, creators own all applicable rights to their creations. We make no claims of ownership to said creations. To participate, all you have to do is:

1) Make one of the following.

A picture of SquidGirl doing things in her everyday life
A fictional journal entry from SquidGirl's perspective
Stats for SquidGirl in your favorite RPG system
A background story for SquidGirl
Something else entirely but still about SquidGirl

2) Post your creation (or a link to it) in this thread on our forums.
That's it! We will choose winners based on a variety of criteria including attention to detail, humor, awesomeness, and amazingness. One grand prize winner will recieve a 100 dollar Amazon Gift Card. We'll also pick 5 runner ups (one in each of the 5 categories) and they will also win prizes. Winners will be chosen on Thursday September 16th at 6pm PST. Yes you can win in multiple categories, and yes multiple entries are allowed. Feel free to give feedback or constructive critisim with your fellow contestants.
With convention season in full swing, it's the perfect time to let the rest of the gaming community know about how great Obsidian Portal is. Unfortunately (or perhaps fortunately), we're not a huge mega-corporation that can afford to set up exhibits and hire booth babes to represent us everywhere. Instead, we're going to rely on you, our awesome users, to get the word out. We want you to represent Obsidian Portal at your favorite conventions as an official Obsidian Portal Emissary.
First things first: we're not asking you to stand on a corner handing out fliers. Instead, we just want you to go to your favorite conventions and meetups and play games like you always do. If there's a good time during the game to mention Obsidian Portal, then by all means please do so. Hand out some fliers and stickers to the other people at your table. Tell them to check out the site. That's it!
We don't need a hardline sneaky salesforce. As most of you know, it doesn't take a lot of convincing to get someone to like Obsidian Portal. Basically, once you give it a try, you're hooked. The hardest part is letting people know that we actually exist. That's where the Emissaries come in.
As an Emissary, we'll send you a small kit with some stickers, fliers, and one of our snazzy t-shirts. Plus, you'll also receive our deepest thanks and a free 3-month Ascendant upgrade. Toss the fliers and stickers into your gaming bag on the way to the con and you're ready.
Obsidian Portal Needs You!
If you're going to a convention, meetup, or anywhere gamers hang out, and you're interested in representing Obsidian Portal as an Emissary, send me an email at jerry@obsidianportal.com. Let me know your Obsidian Portal username, what conventions you're going to, and when. We're going to start small, with only a handful of Emissaries. If things go well, we'll step it up. So, even if you don't get selected at first, we may come back to you once we get the hang of it and are ready to ramp up.
Update: Full Up for GenCon
We've got plenty of people for GenCon, so we're going to close that off for now. However, if there's a small or local con in your area in the next month or two, we'd still like to get you hooked up.
Hail Adventurers,
Parched? Dying of thirst in the unending deserts of Athas? Then you'll want to get in on one of these contests we're running this week,  because we're giving away some Limited Edition D&D Jones Soda!
 But before we share the details for the contests we had something we wanted to share a brief interview with the folks at Jones Soda! Did you know that you could make a 6 pack of beverages unique to your RPG campaign? Best. RPG. Prop. Ever.
Obsidian Portal: Where did you get the idea for limited edition D&D branded sodas?
Jones Soda: We met up with Wizards of the Coast in December of 2008 and had a great brainstorming session. D&D Jones Soda came out of that.
Obsidian Portal: Who came up with the names for each soda?
Jones Soda: We have to give credit for that to our friends at Wizards of the Coast. It was all them.
Obsidian Portal:What do they taste like?
Jones Soda: They are all regular Jones flavors; Root Beer, Green Apple, Cream Soda etc. We gave them cool art and great names.
Obsidian Portal: What ingredients go into your Sodas? High Fructose Corn Syrup? Eye of Newt? Hair of A Black Cat? 
Jones Soda: We are all Pure Cane Sugar!!! Hmmm. Eye of Newt. Sounds interesting. Maybe next round.
Obsidian Portal:Could people come up with unique beverages for their RPG campaigns?
Jones Soda: You bet. We are all around people creating their own sodas with our myJones program.
Obsidian Portal:What other RPG brand sodas would make if you could?
Jones Soda: We are always striving to provide our fans with new cool stuff. We look to them to tell us what's up. Find us on Facebook and let us know what up.
Obsidian Portal:Where can we buy Jones Sodas?
Jones Soda: You can find us a most grocery stores, Target and WalMart. Also online at www.jonessoda.com
Good times. Ok so now on to the contest details!
Twitter Contest:
This one is probably the easiest to enter. It has two steps.
Follow @ObsidianPortal on Twitter.
Tweet the following: I RTed this because I want to win a 6 pack of the Limited Edition Dungeons & Dragons Spellcasting Soda from @JonesSodaCo & @ObsidianPortal!
That's it! That's all you have to do to enter into our twitter contest! We'll pick a winner at random using the algorithm at RANDOM.ORG on Friday at 6pm EST. Now unfortunately, unlike our other contests, to be eligible to win this contest, you must live in one of the 48 continental United States. Sorry!
Facebook Contest:
Head to our Facebook Fanpage and leave a comment here! You can leave multiple entries. We'll pick our favorite entry on Friday at 6pm EST. Like the Twitter contest, to be eligible to win this contest, you must live in one of the 48 continental United States. Sorry!
Good luck, good gaming, and stay thirsty!
Update: We have a winner! Congrats to @Milambus! We'll run another contest very soon!
If you saw this tweet:  I want a +2 CHA bonus from @GeekyClean and @ObsidianPortal! http://bit.ly/b3WKyr and clicked the link, it means that who ever posted that tweet probably read our monthly newsletter. Did you know that our newsletter is full of great info, sneak peeks at up coming features, contests, and coupons for Ascendant Members at DriveThruRPG.com? If you have a copy in your inbox, check it out! If not, you can sign up to receive it on your Account Management page of your Obsidian Portal profile. 
/shamelessplug
So enough about that. What's all this +2 CHA about then?! Well of course you know all about the fine geek soaps from the fantastic people behind GeekyClean, right? Well now they've used some kind of magic to make actual dice into actual soap! And it comes in 7 color/scent combinations! And we have one to give away! Here, take a gander at this: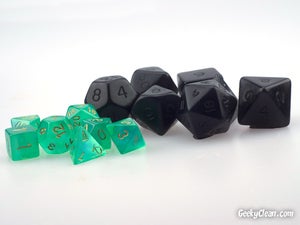 The big ones are actually soap! I know, I was amazed too! So if you want a shot at winning this contest, all you have to do is follow these two simple steps:
Follow ObsidianPortal on Twitter.
Tweet the following message: I want a +2 CHA bonus from @GeekyClean and @ObsidianPortal! http://bit.ly/b3WKyr
There you go. It's that simple. Good luck, and remember to read your monthly newsletter!
UPDATE: A winner has been chosen! Congrats to Paradox Hazard, you've won a Pecan Pie with the following submission:
For Deadlands: Reloaded

Professor Paddington's Perfectly Preserved Pecan Pie! (Patent Pending).

Prof. Paddington's pies appear and taste like any other pie save for a small smokey after taste. The secret of the preservation process that keeps the pies fresh no mater were they are transported is the Ghostrock used during the baking process.

Anyone who eats even a portion of the pie must make a Spirit roll to avoid addiction to the confection. Each time the check is failed the victim feels compelled to seek out another pie. The difficulty increases with each check by a factor of two. (-2 for the second pie, -4 for the third, etc).

The pies themselves can be found throughout the weird west in general stores and at trading posts and retail for around five dollars.
You have 24 hours to stat a Pecan Pie in the game system of your choice. The winner will get 1 Old-Fashion Pecan Pie from Priester's Pecans: http://bit.ly/cSfEOh
We'll pick a winner at random on Tuesday April 6th at 5pm EST. Email your submissions to dan@obsidianportal.com, and we'll put the winner (along with our favorite submissions) up here on the blog first thing Wednesday morning!