Seven times she will call our line. Seven times we will answer. So you'd best remain true and faithful young one, for your bloodline is pledged to the Stone. Before he died… again, your late father swore the Oath of Crows – August's Campaign of the Month! In the name of the Lady and all her Crows, I bid you journey with me to Logres, where we'll speak with ikabodo, the GameMaster of this monumental campaign.
First off, feel free to tell us about the person behind the GM screen. Where are you from? What do you do aside from gaming? Alter Egos? Wife and kids? Where can we stalk you on the internet. Let us know if you feel so inclined!
Wow, many questions at once there. Let's see.  I'm a GM from the southern parts of Sweden. I've played pen and paper games since I was in my early teens. I've spent a lot of time GM'ing and I like to play whenever I get the chance to. I'm one of those players that NEED to play on a regular basis, or i rot from the inside. No wife or kids, but a fiancée and a cat, we're getting there! I really don't like being stalked, but you're free to follow my obsidian pages.
Tell us about Oath of Crows in a nutshell. How did it come to be and how long has the campaign been going on?
Well, for many years I've wanted to try to get that really GREAT campaign of the ground, and God knows I've tried several times. Most of my grand schemes have failed somewhere along the way, usually because of a lack of inspiration or discipline from my part. This time, I REALLY wanted to do it right from the start. I've been living in the northern parts of Sweden for several years, but when I moved back down south I got in contact with a few loyal and great players from the old days. I laid all the cards on the tables and asked "You wanna be a part of this?". A few said no, but the once that said yes are committed. The campaign hasn't really been going on for that long yet, but it's really active. And we have a long way to go.
Your adventure log is constantly being updated! Where and how often do you play?
Thanks to my lovely players! We play every other weekend but all players are supposed to contribute to the page between sessions. I made it clear from the start, that I wanted each player to post SOMETHING on the page between each session. If they did, I promised to try to incorporate their stories the main storyline. I think that is the magic pill I've been searching for. How do you get your players to contribute? 1. Be clear that you expect them to contribute to the effort you make. 2. Reward them with stories, after all, that is why we play!
It seems like the Pendragon system has been picking up some traction lately. How were you introduced to the system, and what made you choose to run your game in it?
I've always liked medieval times, knights and fantasy, as well as gritty realism and epic heroics. I've played many fantasy games over the years, many of them local Swedish games. About 9 years ago I was introduced to Pendragon by the masterful GM Skarpskytten. I got the opportunity to be a player in his setting, and I decided I wanted to give it a shot. I never expected to fall in love with the game, it seemed to narrow in its focus, but I did. It's deadly, ruthless, loving, caring, epic, ridiculous. It's the only game I've ever played where the player cares more about his wife and kids than his sword and magic items.
Do you play in any other systems, or are there others you've been interested in trying out?
I have played many, I like to play more. But Pendragon and real life takes most of my time. I'm planning a bit of an off-shoot Star Wars Campaign that might start this year. Historically, I've played games that are story focused. World of Darkness, "Eon" and "Drakar och Demoner" (Swedish fantasy), Star Wars and many more. I've lost interest in experimental indie games when I've gotten older. I like the game to be pure and clear, and inspiring.
How did you get into tabletop gaming?
Wow. I was a nerdy kid, few friends.. (have you heard this story before?). I met another nerdy kid who wanted me to see this "awesome thing". I've long since lost contact with that person, but he did introduce me to the second biggest love of my life. Role Playing and me have an almost romantic relationship, my future wife got that from the start.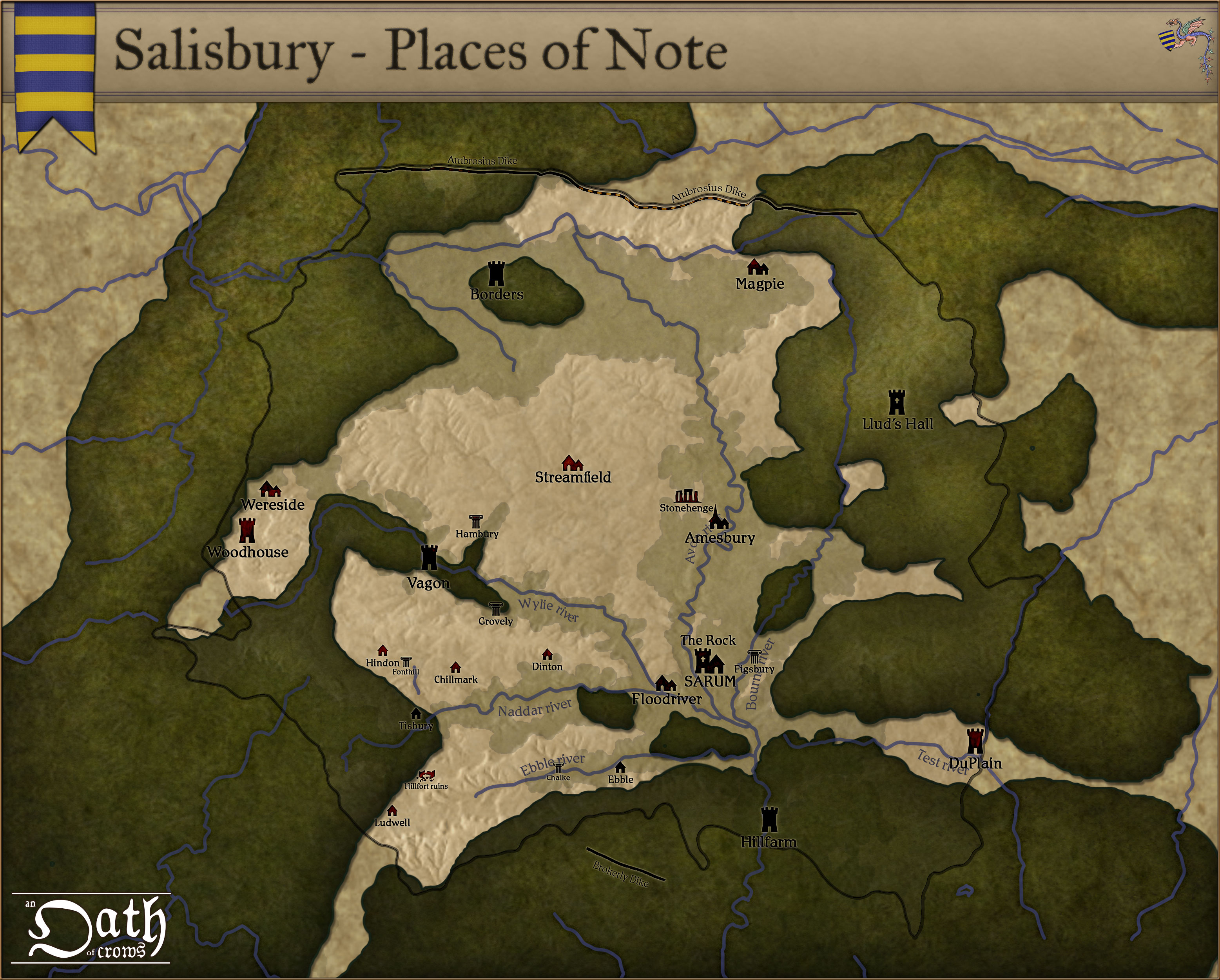 How long have you been using Obsidian Portal? What brought you to the site and what keeps bringing you back?
A few years back. I used it for Star Wars, I think I found it through looking for some simple tool to manage my campaign openly. I liked the simplicity in it. And honestly, being able to change the CSS to fit my campaign was a major factor. I wanted the page to INSPIRE as well as be informative. The site has it's faults and frustrations, but I see a lot of hope for it. I spend almost every day on it, as do my players. 
Your wiki's customization is brilliant. Do you do all the work yourself or do the players contribute as well?
Thank you! I do all the CSS and customization myself (please don't look at the CSS, it's a mess!) But some of the players are starting to contribute with pictures and simple page coding, I imagine we will see more of that in the future. There is an interest in information, design and inspiration in some of the players. Some of them are quite visual too. Usually it's one of my stubborn ideas that gets the design going. "I want the page to look like this! I can't? …. challenge accepted!"
If you had to pick just one thing, what would you say Obsidian Portal helps you with the most?
Keeping track of things. It's our bible. How old was that guy again? What was Ambrosius Dike now… Who did what, and when… and so on. My players use the information too, writing their stories. They are beginning to add to the main wikis too now, something I love to see more of.
How much time do you usually spend prepping your sessions, and how do you go about it?
It depends. Pendragon takes a lot of long term planning storywise. I usually spend… 4-12 hours before each session perhaps. And at times more than that preparing graphics, stories and texts. It's a chore sometimes, but it's my hobby.
What would you say the single biggest highlight from your game has been so far?
Without a doubt the end session of the prelude. I managed to do that thing many GM's dream of, a TPK the players enjoyed. It's a long story, and you can read more on my page about it. But to keep it short: The players spent several session playing their "fathers". I made sure they understood it was a prelude, and they might not survive it, but never explained how it was about to end. One year, in the middle of a civil war, the King called a peace treaty and a feast. The players spent an hour mingling, feasting and being happy about the peace when suddenly all guests had their throats cut. I watched the terror in my players eyes as they realized they ALL just died, stabbed in the back. Then I said "Right, that calls for a break for food, right guys? It's not over yet." We ate in silence, then returned to the session. I then gave them a choice. A woman told them she could extend their lives until sunrise, if they swore their bloodlines to her service. Hence the name of the campaign, "Oath of Crows". They had until the end of the session to get back home and save their families before the Saxons took them. They died again when the first rays of sun hit their skins, standing on a mountain of corpses. Next session, they played their surviving sons. They all remember dearly that betrayal, and how their fathers died. We still talk about that session.
Okay, before we get out of here, give us some of your best GM'ing pearls of wisdom.
Right, I don't know if I'm that wise. But I'll try… Remember WHY your players play. Be honest about what you expect, be considerate about their needs. Let them take part in creating the story. Let them create, but guide them through the story. Try to make them trust you. If you do something, it's for the best of the game.
So there you have it my lords and ladies. Keep those nominations coming, as September will be here before you know it. Until next time.